England Win Cricket World Cup In Historic Final
After an astonishing season, the ICC World Cup tournament came to a staggering conclusion on Sunday 14th July.
It was a nail-biting final from start to finish, as cricket World Cup hosts, England and favourites New Zealand battled it out for the title of World Champions. In a turn of events, England were crowned World Cup winners for the first time in history.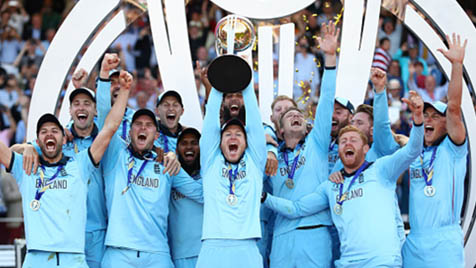 To say the final match was a close call would be an understatement. Even after the final ball, unbelievably both teams were tied, leading to a sporting deadlock that will go down in history. With a dramatic super-over required, of an additional six balls each, it was decided that if there were to be another tie, England would win based on the number of boundaries they hit during the game. 
It was on the final ball of the super-over, that New Zealand were stumped out by England's Jos Butler. An agonising loss for New Zealand, losing out by the smallest of margins. It was all over, and England were the cricket World Champions for the very first time.
Both New Zealand and England were favourites to win from the start of the tournament, however, it was touch and go for a while, with many believing New Zealand would take home the trophy. It was only until England began to bat, that the scoreboard started to even out.
Moreover, with the latest UK TV viewing figures announced, a massive 7.9 million tuned in to watch the ICC Cricket World Cup Final. The number of viewers that sat down to watch the match has smashed records. A brilliant advertisement for the sport, the victory will help to encourage others to get involved and increase cricket's popularity, which is continuously growing year after year. Last Sunday's World Cup final will go down in history as a monumental moment for the English sport. We can finally say that England have won a cricket World Cup! Now onto the Ashes...
Book A Cricket Speaker Today
Why not get involved in the celebration of this momentous event by booking a cricket speaker!
If you are looking for a cricket speaker or inspirational speaker from the world of cricket, we offer leading names from the game's past and present to host your corporate events, award ceremonies, and product launches. To book one of our cricket speakers for your event, simply contact a member of our team by filling in our online contact form or you can call directly on 0207 1010 553.