How BBC Sports Personality of the Year 2019 Ben Stokes Won the Nation's Hearts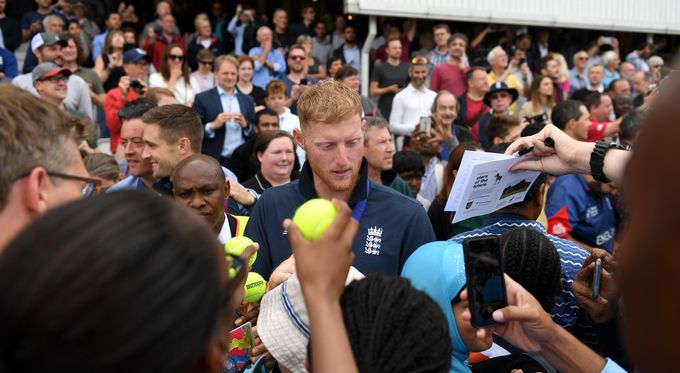 It's official - your BBC Sports Personality of Year 2019 award has gone to England's World Cup-winning, Ashes tying legend - and it couldn't have gone to anybody else. Eclipsing even some of the greatest feats in cricketing history, Ben Stokes put himself into the history books alongside the Ian Botham's and Freddie Flintoff's of cricket, for not just one, but many breathtaking performances. Overcoming all odds, he displayed the pure pride that is reserved only for when you are representing your country on the biggest stage. Ben Stokes stole the summer and ensured his name has its own chapter in English sporting folklore.
It has not all been smooth sailing for Stokes. But sport often finds a way of rewriting scripts. Prior to the 2018 FIFA World Cup, Gareth Southgate somewhat, unfortunately, was remembered for that missed penalty in Euro 1996. But due to the magic that only a major sporting tournament can bring, Southgate lay that particular ghost to rest taking England to the semi-finals of the football World Cup. Now, the name Gareth Southgate conjures images of waistcoats and drinks flying into the sky in the scorching sun. Similar can be said for the great Ben Stokes. In becoming the first cricketer since 2005 Ashes winner, Freddie Flintoff to claim the prize, Stokes proved that while you are judged on the mistakes you have made, you are also blessed with a chance to bounce back. A bad boy is not a new thing in cricket, in many ways, Kevin Pieterson and Freddie Flintoff were a little off the rails too - but as with any sport - mishaps must be superseded by brilliance.
Prior to the moment that Stokes single-handedly dragged England back into World Cup contention, leading them to an extraordinary victory, Stokes had his run-ins with the law. A series of drunken incidents and bizarre injuries had blighted the potential and reputation of a 'would-be' world-class batsmen. He'd been caught obstructing a police officer on a night out, breaking his hand punching a locker, speeding for the fourth time and charged with affray. Ultimately he was found not guilty of affray but much of the damage had been done with him stripped of England's vice-captaincy in 2017. It takes something momentous to cover those sins and completely change the way you're perceived, but thankfully for Ben Stokes, that's exactly what happened.
It is not that he is a World Cup winner alone that has seen Stokes redeem himself, it was the manner of his efforts. It was him taking the world by storm, holding his head up when England looked buried, hitting sixes like he was playing for more than a World Cup win, and doing it all for the pride he felt for the three lions on his shirt. His utter desperation to rectify his past mistakes and to be seen, not as a villain, but as a hero is what makes Stokes' story so incredible. Fuelled by a motivation to be seen for the good he can bring to the world - he uncovered one of the most famous narratives that cricket has seen so far this century. Bringing the country together with some of the most inspirational performances of all-time not only won Stokes the BBC Sports Personality of the Year award but also won him the nation's hearts.
The moment Ben Stokes was crowned 2019 #SPOTY 🎉

Watch 👉 https://t.co/Gx41WWN9KI pic.twitter.com/qIF48GfsOa

— BBC Sport (@BBCSport) December 15, 2019
In a humble acceptance speech, Stokes drew attention to his past, as well as concentrated on the importance of the people around him including his teammates. It showed a man at peace with himself and in love with his life.
"First of all, I think congratulations to all the nominees. What you've managed to achieve as individuals and do for your sport is simply sensational, so well done to you too."
"There's so many people you feel you have to thank when you're up here. It's an individual award, but I play a team sport and one of the great things about that is you get to share special moments with those team-mates, coaches and without that effort you put in, I wouldn't be up here receiving this award so thank you so much."
Rightly so, that Stokes should share the honour with his teammates too. Without one of the best teams in the world alongside him, Stokes never could have masterminded the great escape. The England cricket team was voted as the Team of the Year and Jos Buttler breaking the stumps to win the Cricket World Cup was recognised as the Greatest Sporting Moment which proved emphatically the importance of teamwork. It was indeed a tournament where England captain Eoin Morgan made fine tactical decisions and players such as young flying bowler, Jofra Archer, proved his quality in his debut campaign for his adopted country. It has been a massive year for English cricket - the question is - can they build on it?
Stokes has not been short on admirers in 2019. Here are just some of our favourite Tweets about the England hero surrounding SPOTY 2019:
The key figure in an unforgettable summer?#VoteStokes #SPOTY

— England Cricket (@englandcricket) December 11, 2019
🏆 He's done it!

Ben Stokes is the 2019 BBC Sports Personality of the Year!

What else can you say about our Player of the Year?

HUGE congratulations, @benstokes38! #SPOTY pic.twitter.com/MGfoTJJZMX

— PCA (@PCA) December 15, 2019
For hauling England over the line on one of the most enthralling days in cricket history.

And then, two months later, doing it all over again.

Congratulations Ben Stokes, 2019 BBC Sports Personality of the Year.#SPOTY pic.twitter.com/8gRImypexY

— Nottinghamshire CCC (@TrentBridge) December 15, 2019
Jim Laker 1956✔️
David Steele 1975✔️
Ian Botham 1981✔️
Andrew Flintoff 2005✔️
Ben Stokes 2019✔️@BBCSPOTY winners from the World of Cricket. #bbccricket #SPOTY19 pic.twitter.com/TQM8jBew3G

— Test Match Special (@bbctms) December 15, 2019
Congratulations to all of the winners from the Sports Personality of the Year 2019, as well as those who helped to make it such an incredible sporting year in Great Britain.
You can browse our vast selection of talent to book a cricket speaker for your event today.