The Secret to a Successful Cricket Team: The Importance of Teamwork
It is widely acknowledged that without teamwork a team cannot succeed, regardless of whether it operates within sport or the workplace. In this article, we are going to pick apart the key pieces needed to create a successful cricketing team and why effective teamwork is vital.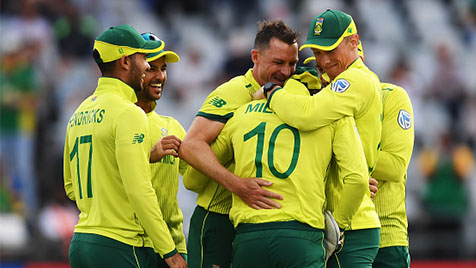 A brilliant example of teamwork within cricket can be taken from the huge win in the 2005 Ashes series, where the England team triumphed against Australia. It may have taken place over a decade ago, but this success for England is widely regarded as one of the greatest moments in England's sporting history. The 2005 England Ashes team produced some of the most impressive and successful cricketers of our time, such as Andrew Flintoff MBE and Matthew Hoggard MBE and set the standard for those that followed. Their successful team winning formula was all down to their ability to efficiently work as a team. Let's break this down further.
Communication
A key part of an effective team is the ability to communicate clearly with one another. Communication must be honest with an understanding of each other's communication styles. Developing a single communication style will not only improve the relationships of the team but also help to communicate more thoroughly and productively. A good example of this is the unique communication tactics used between the bowler and the wicketkeeper to understand how the bowler is going to play the ball. It is also important to remember those team members that are able to voice concerns confidently will benefit the whole team, allowing everyone to try out new ideas and improve.
Hard Work & Motivation
Every player within the team must display equal amounts of effort for the team. Having some members of the team pulling the majority of the weight could lead to internal conflicts within the team. Getting the best out of training days will help the team to improve camaraderie, leading to a more cohesive and successful team.
Motivation is increasingly important when the team is putting in hard work. This is often when the team morale can dip because everyone is so concentrated on winning that stress can take over. One way to keep the team morale high is by taking positives from negative situations, and continuously praising team members when they make important contributions.
Creative Freedom
The ability to think freely and creatively will benefit the whole team. Team members should be encouraged to try new things and fail without the fear of consequences. This aspect of teamwork helps to bring together all of the other elements of effective teamwork and gives team members the confidence to openly communicate their ideas and know that they are being listened to.
Co-operation & Discipline
Building a good understanding and relationship between the players, and knowing that everyone's role is important in achieving a successful end result is crucial. This is where team members will need to be able to cooperate with others under orders from the captain, to obtain a smooth team operation. For example, Viv Richards captained the West Indies for a decade, winning nine out of fourteen series. Richards demonstrated the influence that a good captain has on his team through his continuous success.
Adaptability
The best and most successful teams will be flexible and adaptable to changing conditions. Cricket teams often get used to their own specific bowling styles for example, and when playing against another team who have a different style will often struggle. This is why it's important to change and try different things, allowing your team to become more adaptable. Another example of the importance of team adaptability is the effect of a change in environment when visiting other countries during away games. It has been recognised recently, that when England have played in away games during the Ashes they have lost. Some speculate that this is a result of not being able to adapt to Australia's difference in climate.
Respect & Trust
As the saying goes, "there is no I in Team". This perfectly sums up the importance of not acting selfishly, especially when working in a team sport such as cricket. It is crucial that every member of the team is treated equally, regardless of the player's position within the team. A captain can not fulfil his job without the wicketkeeper, bowlers, batsmen and so on. There has to be a reasonable amount of trust between the team, believing that everyone is working together to achieve the same goal and is willing to help out others in whichever way necessary.
The Importance of Team Building Activities
Being able to apply all seven categories mentioned in this article is key to achieving great success and improving your team's teamwork. In addition to this, one of the best ways to improve teamwork within a cricket team is by taking part in team building activities. Team building is an excellent way to create and enhance all of the above categories needed to create a successful cricketing team full of team spirit.
Booking a Cricket Speaker Can Inspire Your Team
Having played around the world on some of the biggest and most pressurised stages, each of the cricket speakers on our roster will be able to delve into their own experiences to provide insight into a successful team environment.
To book cricket speakers for your corporate function, sporting event or conference, simply contact Cricket Speakers UK by filling in our online contact form. Alternatively, call a booking agent directly on 0207 1010 553.